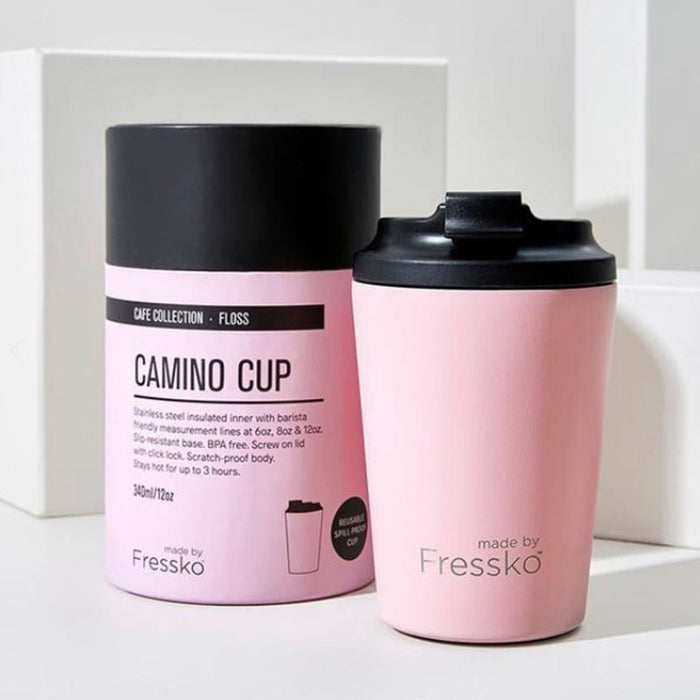 floss reusable coffee cups
Fressko's philosophy is simple: Be kind to Mother Earth, to Others and to Yourself.

Fressko's chemical free, insulated and high quality reusable coffee cups are designed with sustainability in mind.

A highly polished, food grade 304 stainless steel body that is double-walled & vacuum-sealed keeps hot/cold temperatures inside for up to 3 hours.

Internal barista markings enable accurate coffee to milk ratios while the outer body power coated for scratch-resistance in your bag.

A completely leak-proof lid that allows it to be held upside down - better than "spill-proof" lids in the market.

Keep it safely in your bag, with your coffee OR tea on the go, ready to drink at any moment.

Holistically Sustainable

Fressko's coffee cup ticks all the boxes for a stylish and sustainable reusable cup, making it easy to say goodbye to single use. And it doesn't stop there!

Fressko's packaging is made entirely of cardboard to minimise plastic use. Fressko even buys carbon credits to offset its cross border freight emissions! They are dedicated to sustainable living to the very end.

When you choose a Fressko, you are choosing to be kind.
Key Features:
•

Internal measurement lines at 2oz intervals from 8oz to 12oz
•

Guaranteed vacuum-sealed, yet the walls are magically thin
•

Timeless shape colours with wonderful textures
•

Food grade and chemical-free 304 stainless steel cup
•

BPA-free food grade hardened PP (polypropylene) lid
•

Silicone seals on lid and spout

•

Silicone anti-slip base with a non-toxic adhesive
Cup Dimensions:
Bino:
- 12.5 cm (H)
- 7.5 cm (Lid W)
- 6.0 cm (Base W)
- 10.0 cm (H Without Lid)
- 165 g (Total Weight)
Camino:
- 14.6 cm (H)
- 9 cm Lid (W)
- 7 cm Base (W)
- 11.8 cm (H Without Lid)
- 210 g (Total Weight)