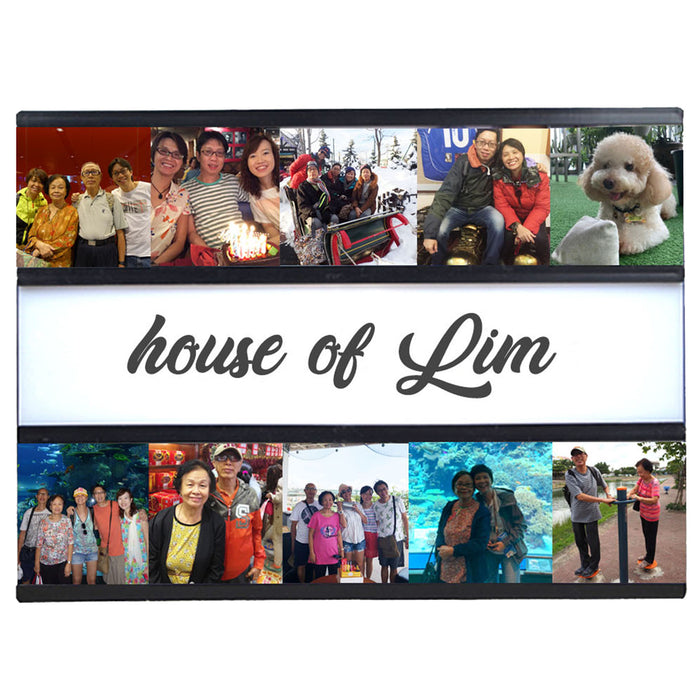 Display the memories of your loved ones with this unique customisable lightbox.
This classic set also comes with 85 black letters and 119 colourful emojis & letters so that you can create a personalised party message. Perfect for showing off your wedding hashtag, saying happy birthday, or any other event.
More than a decoration, it can also be used as a bed lamp for lighting. It has a useful switch at the side so you can conveniently turn the lights on or off.
• Dimensions: 29.7 (l) x 21.8 (h) x 4.3 (w)
• Powered by: USB cable or 6 x 1.5V AA battery (batteries not included)
Package Contents:
• 1 x Light box
• 1 x USB cable
• 85 x Black letters and numbers transparencies

• 85 x Multi-coloured letters, numbers & emoji transparencies

We will contact you to arrange sending your photos (and text) to us. You will receive a design mock-up before it is produced overseas.  The final product will be shipped to you in approximately 4-8 weeks.
Announcement: please note that the current Covid19 crisis has caused delays in international postal and courier deliveries. We seek your kind understanding for any late deliveries. Thank you.