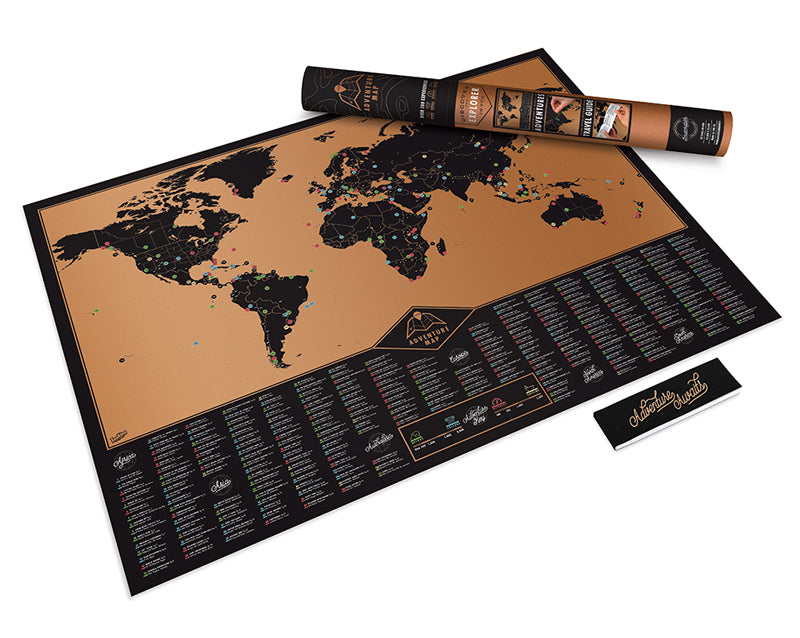 Adventure Map was created with those seeking adventure as they travel around the globe.
Wherever you're headed, Adventure Map will give you inspiration and information to help you seek out local thrills and awe-inspiring spectacles.
Included with the world travel map is a 150 page travel guide booklet containing over 280 experiences and adventures.
Categorized by nature, culture activity and cuisine there is something for the most thrill seekers and those slightly less adventurous types who still want to do, see, or eat something memorable.
You may not want to spend your holiday running the polar circle marathon in Greenland but sampling beers in the world's oldest brewery in Bavaria, Germany may be more your style.
Once you've returned from your adventures you'll want to record where you've been and what you've got up to whilst you were away. Every time time you complete one of the experiences, remove the foil surfaced circle to reveal a bright color underneath – the more adventurous you are the more colorful the world travel map grows.
Whether your travels are taking you to Africa, Asia, Australasia, Europe, North America or South America the travel guide will clue you in on things to eat and drink, amazing architecture and natural sites, plus a plethora of cultural experiences and extreme sports.
If you want the most rewarding and exciting experiences the world has to offer pick up Adventure Map. Go on…discover the explorer in you.
Dimensions: 82.5 x 59.4 cm