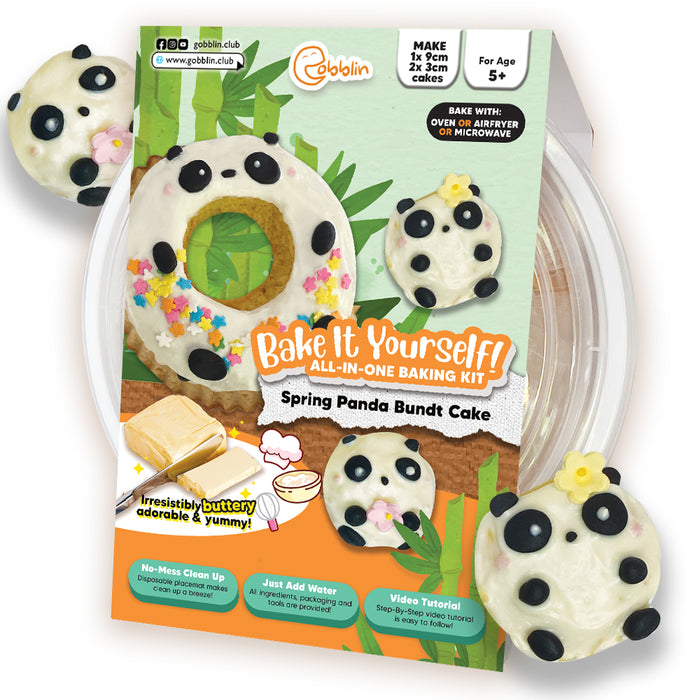 Spring Panda butter bundt cake
Gobblin's first ever kit to feature a new flavour: Butter Cake!
Enjoy this irresistibly scrumptious buttery bundt cake, coated in yummy white chocolate. Make 1X9cm and 2X3cm butter cakes.

Contents:
• mixing bucket
• spatula & spreader
• pack A, B, C & D
• water tray
• white chocolate pack
• pink chocolate pack
• decoration tools X2
• black fondant pack
• floral sprinkles
• gum paste flowers
• placemat
• gloves

Ingredients list:

Wheat Flour, Sugar, Dehydrated Eggs, Palm Oil, Palm Kernel, Milk Powder, Vegetable Emulsifier, Milk Fat, Salt, Soy Lecithin, Vitamins. Contains Permitted Emulsifier, Preservative, Flavourings, Antioxidant and Colouring, glycose syrup, shortening, water, assorted sprinkles.
Notes:
Product may be produced in facility that process nuts, eggs & dairy. All Halal Ingredients. Contains egg & dairy. No refrigeration needed. Store away from sunlight in a cool & dry environment.