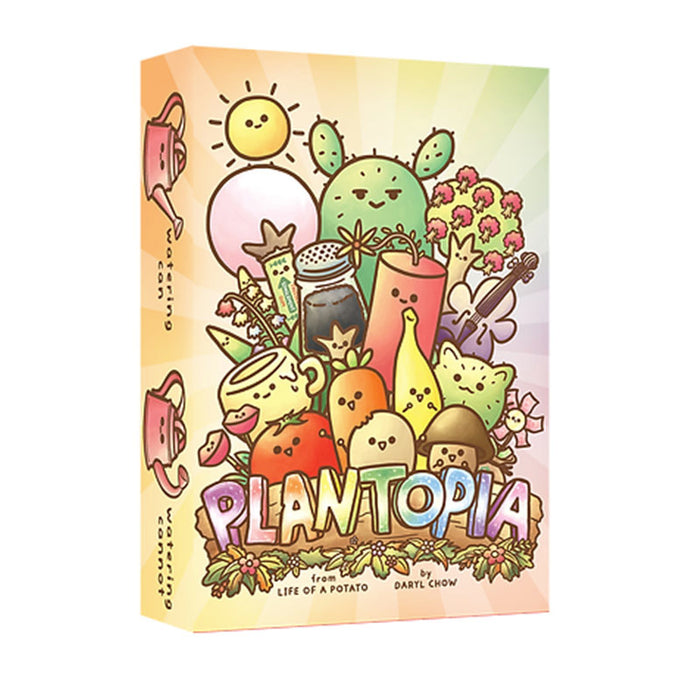 Plantopia is a strategic card game where players harness their gardening abilities to contend for the coveted title of Plantopia's Champion Gardener.
Join Potato and friends on their journey and enter the world of Plantopia, where you will manage a garden of unbe-LEAF-ably cute and quirky plants, and maximize their potential to grow the craziest garden on the planet!
Plantopia is based on the universe of Life of a Potato, a comic series about a little potato and its friends, spreading love, kindness and laughter around the world. Don't be fooled by the cuteness of the plants - get ready for the countless strategies that await you on Plantopia. 
Plantopia is designed with both the casual gamer and hardcore strategist in mind. The simple and intuitive rules make it accessible for all, and friends and families will have a fun and fruitful time in Plantopia. Its fast playing time and high gardener count also makes it a great game to bring to your friends' greenhouses.
But at its core, it is a tableau-building and hand-management game where you will have to synergize the abilities of all your plants to do well. Kind of like a much cuter Race for the Galaxy with lots more plants! 
The game is designed to have little to no downtime, yet the unique Weather mechanic brings players together - ignore rival gardens at your folly! You'll need to keep an eye on your fellow gardeners to claim the title of Champion Gardener for yourself.
Capitalize upon the immediate powers of the Baby Plants while harnessing the scoring combos of the Treevolved Plants. Will you go for the fast-growing Flowers, the card-drawing Cacti, or the weather-controlling Trees? Or a combination of all of the above? You'll always find new plants and different strategies awaiting every trip you take to Plantopia. 
Contents
• 102 plant cards
• 25 planter cards
• 5 player aid cards
• 15 weather cards
• 9 bonus weather cards
• 5 character power cards
• 1 rulebook
• 1 solo rulebook and glossary
• 30mins play

• 2-5 players

• For ages 10+