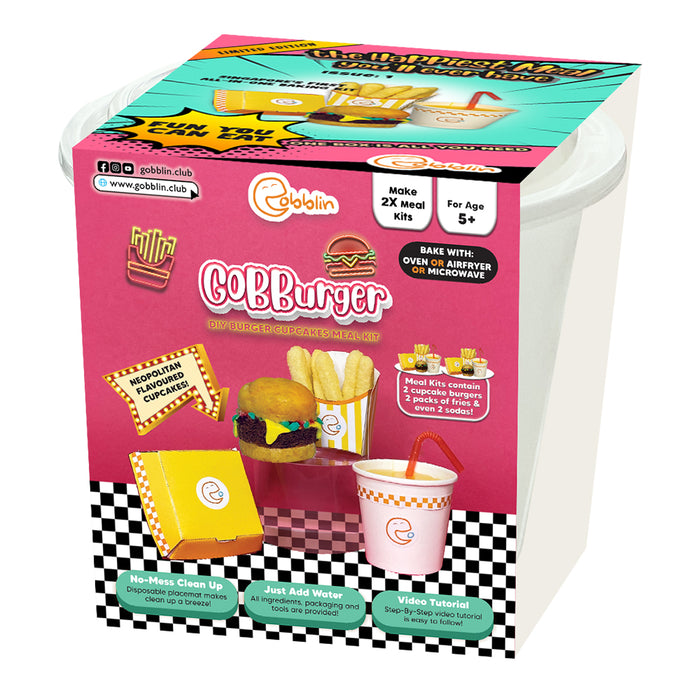 GOBBurger neopolitan cupcake burger kit
Is it a burger or is it a cake?
It's a GOBBURGER CUPCAKE!
Comes with all ingredients, tools, packaging and instructions.
Each box makes 2X neopolitan flavoured burger cupcakes, 2X fries packs and 2X orange fizz sodas, complete with checked placemats and decorations.
Contents:
• mixing container
• spatula & measure cup
• cupcake mix (A,B,C,D)
• cream pack
• candy cheese pack
• ketchup sauce pack
• orange soda pack
• fries chips pack
• 2x soda cups
• 2x fries holders
• 2x burger boxes
• glove pack & placemat
Ingredients list:

Plain flour, granulated sugar, egg, milk, canola oil, baking powder, vanilla essence, vegetable shortening, glucose syrup, water, pectin, citric acid, Sorbitol, permitted flavour, Emulsifier (E433), stabiliser (E415), permitted colours (E124, E122), glycerine, acidity regulator (Trisodium Citrate) Titanium Dioxide, Anthocyanins(E163), (tricalcium Phosphate), salt, xanthan gum , vitamin C, dehydrated potatoes, vegetable oil, rice, wheat, corn, maltodextrin, monosodium glutamate (E621).
Notes:
Product may be produced in facility that process nuts, eggs & dairy. All Halal Ingredients. Contains egg & dairy. No refrigeration needed. Store away from sunlight in a cool & dry environment.