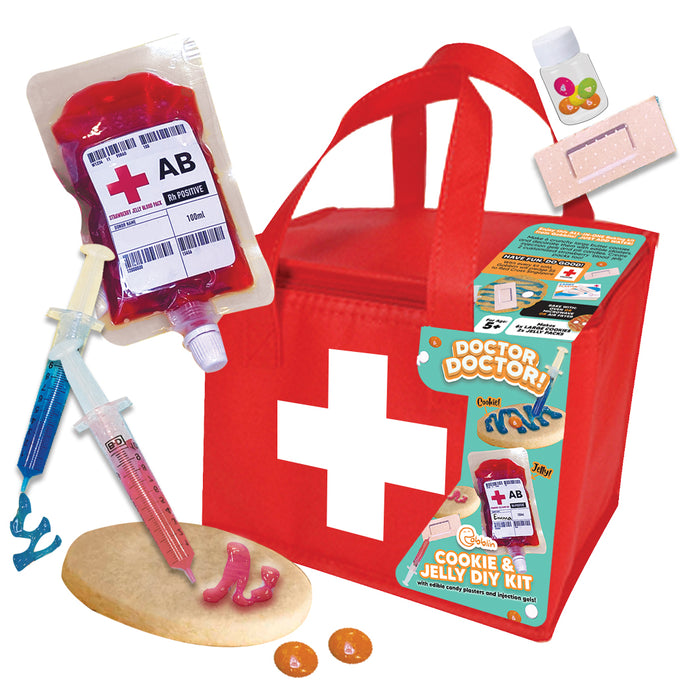 Doctor Doctor! cookie & jelly kit
First aid cookies and jellies to the rescue! Make 6 large butter cookies, adorn with edible plasters and candy pills, and 2 delicious strawberry jelly blood packs.

Contents:
• mixing container
• mixing tray
• pack A, B, C, D
• placemat & glove
• spatula & stirrer
• baking paperspiping gel blue
• piping gel pink
• paper cup
• blood packs
• stickers
• candy medicines X2
• syringes X3
• candy plaster box

Ingredients list:

Wheat Flour, Sugar, Palm Oil, Palm Kernel, Milk Powder, Vegetable Emulsifier, Milk Fat, Salt, Soy Lecithin, Vitamins. Contains Permitted Emulsifier, Water, Glucose, Pectin E440. Acidity Regulators (E330, E331, Potassuim Sorbate (E202) Apple Puree, Gelatin, Citric acid, Artificial flavour and colouring. Assorted candies.
Notes:
Product may be produced in facility that process nuts, eggs & dairy. All Halal Ingredients. Contains egg & dairy. No refrigeration needed. Store away from sunlight in a cool & dry environment.